-Maibritt, known as Britt for short, is the singer of the new Euro-Latin-Pop duo PACHANTA. She prevailed in the casting against over 600 applicants. After the grand finale in Hamburg, she flew back home to Vienna with a record contract in her pocket.
At the age of 15, Britt was already awarded the "Best Performance Award" in the Austrian talent competition "Helden von heute – Falco goes school". She belonged to a Viennese musical ensemble and released four pop-slager songs of her own.
Under the motto "Singing for a good cause", she presented her social project "2 World Children" on the OE24 TV programme. In the meantime, the first fundraising campaign in favour of the aid project has already been successfully completed. Britt hopes for further opportunities and thanks all donors who support her project.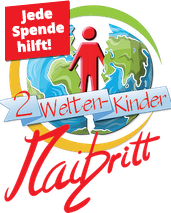 SOCIAL COMMITMENT
2 Worlds Children
Britt started a social project early on, which is committed to the fate of children of single parents.
It is very close to her heart to support such children who, due to a difficult private and economic situation, do not have the same chances and opportunities as others.
You can support the aid project "2 WELTEN-KINDER" for children from single-parent households with a donation:
Donation account:
IBAN: AT20 3209 2000 0027 1833
BIC: RLNWATWWGAE
Raiffeisen-Regionalbank Gänserndorf eGen
How does a donation for the aid project "2 World Children" work?
You pay your estimated donation to the above account, giving your name, address and, if available, your e-mail address. However, if you would like to donate anonymously, please write "Anonymous" in the reason for payment. If you would like to donate as a company, please also inform us by e-mail so that we can send you a donation receipt for your accounting.
Whatever questions you have on the subject of donating, write an email to gabriele.egger@gmx.at or call Tel.
+43 699 17000 695 – SMS or WhatsApp are of course also possible.
With your consent, we would be happy to list you by name on our social media channels and also include you in our press work. Of course, you can also communicate your social commitment yourself via your media.
2 WeltenKinder-Benefit Society
Mühlhäufelgasse 24, A-1220 Wien (Österreich)
ZVR-Zahl: 1832880749